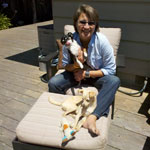 Robin is simply a great pet-sitter! The dogs adore her and relish in their time with her. She's competent, responsible and professional, and has helped us out many times. Not only does she take excellent care of our dogs, but of our home too. When Robin is watching our dogs while we're away, we have great peace of mind knowing they're in her good care.
Teri, Santa Cruz
Robin has cared for my two dogs for over five years now, both for day-care and overnights.....sometimes when I travel the dogs stay with her for up to three weeks. Robin is very loving and dependable and has created a wonderful home-like setting. My dogs can't wait to get to Robin's house.

Jean, Watsonville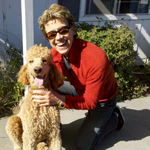 Balder, my one year old Standard Poodle, loves it at Robin's Nest. He is energetic and loves to play with other dogs. When we drive up to Robin's gate he runs in and gets involved with his buddies. As a matter of fact, there are times when Robin's yard looks so inviting that I wish I could stay to play and run! Balder goes to Robin for day care once a week and boarding when I travel. I always leave my dog at Robin's Nest knowing that he will be loved and well taken care of.
Kris, Santa Cruz
We used to dread leaving Bixby and Mooch behind. Their anxiety when we pulled out our suitcases, their hangdog looks ... but not anymore! Now they know when we pull out our suitcases that that means they get to go to "puppy camp" with Robin and play with their pals in the yard or at the beach! Robin takes great care of them and they always come home tired from playing. Now we get the hangdog looks when they have to come home!

Eileen, Aptos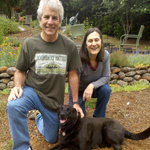 I want to personally thank you for all the love and wonderful care you give our dog Josie. She is always happy to see you and can't wait to jump out of the car when we get to your place. The combination of great outdoor space as well as a cozy and clean indoor space provides her with a setting very much like her home. She is a playful dog and enjoys being with the other dogs you care for as well as going on her daily walk or run at the beach. It is as if she is at a resort. I like the fact she is being loved and cared for and exercised. Thank you for giving her special attention this week as she was recovering from her sore knee. Robin's Nest is the best. Really.
Janet, Scotts Valley
My Dog Calvin is always excited to go stay with Robin. She takes him to the beach -- he has so much fun. He's tired and happy when he comes home. I almost don't mind leaving him.
Holly, Santa Cruz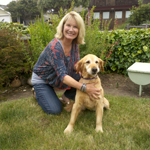 Robin's Nest Pet Care is my dream come true. Robin Balowitz, owner of the service, is dependable, professional and has never let me down. She is easy to work with and in my opinion you certainly get more than your money's worth. Robin has consistently gone out of her way to provide exceptional service in a professional manner and has been able to provide more than 100%. I highly recommend Robin's Nest Pet Care to anyone looking for overnight stays or for daily walks and doggie day care for your pet. Doggie day care is designed to keep your pet safe and active. I encourage you to see if you can find these exceptional qualities and services with any other pet care provider in Santa Cruz County.
My dog Minnie and I are very happy. Woof.
Linda, Santa Cruz